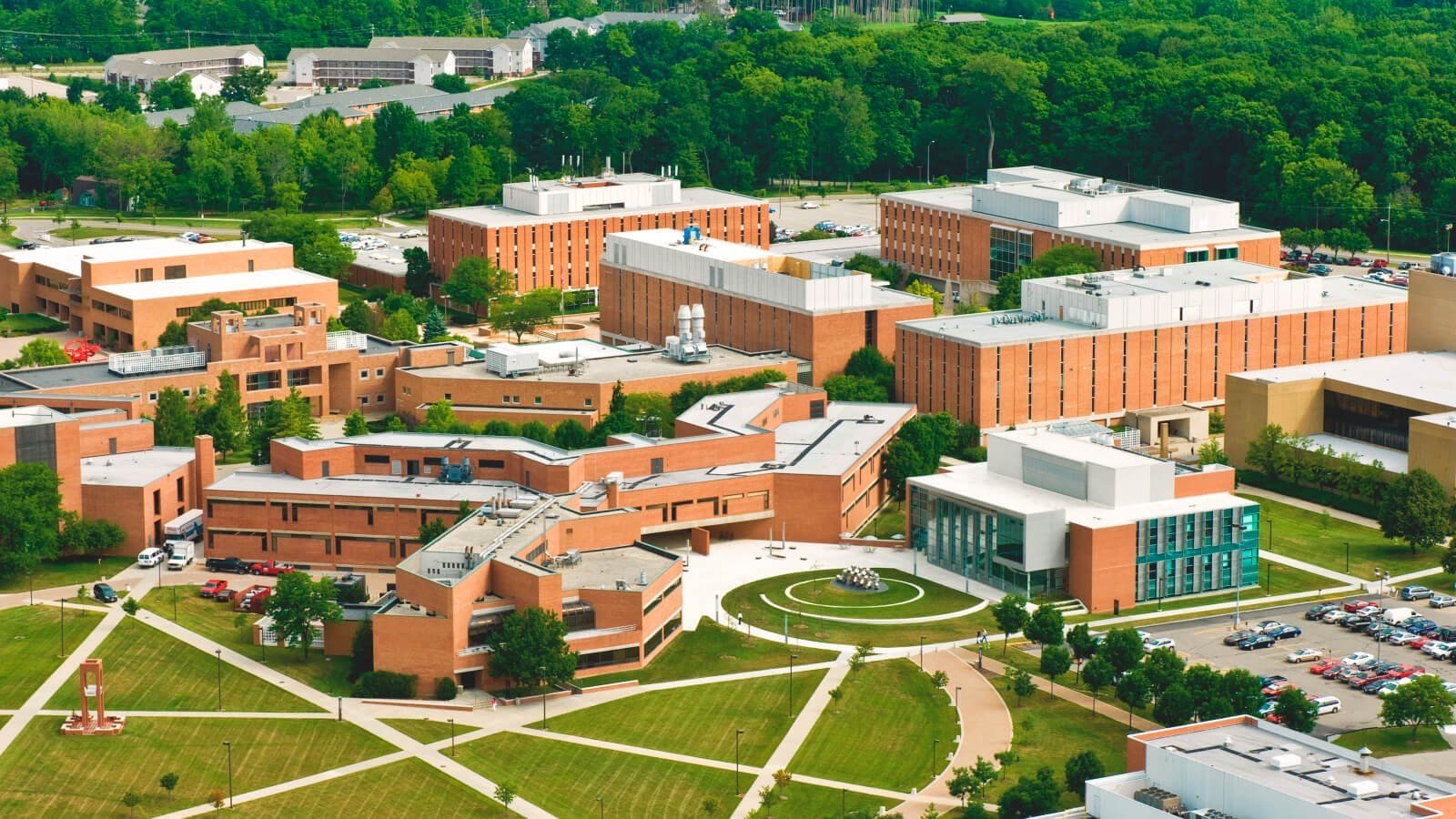 Richard J. Kaiser '08, '10
Alumnus of the Year Award
Richard Kaiser received an associate degree in business in 2008 from the Lake Campus and a bachelor's degree in marketing from the Raj Soin College of Business in 2010.
Kaiser is the founder of Wilderness Agency, a hybrid marketing agency providing branding, digital marketing, videography, development, public relations and sales integration services.
He has worked with more than 100 organizations, from emerging businesses to Fortune 500 enterprises, from Princeton, New Jersey, to Los Angeles, California. Wilderness Agency's focus has been on manufacturing, education, health care and government sectors, helping to identify opportunities to invest in marketing to help organizations grow.
The Dayton Business Journal recognized Wilderness Agency as a 2020 Business of the Year and included the agency on its Fast 50 in 2019 and 2020. Kaiser received the 2020 Spark Award from the Better Business Bureau for excellence in community, culture and character.
Wright State and the Boy Scouts of America have had a significant impact on Kaiser's life and he actively gives back to each. He mentors business students through the Emerging Marketing Leaders Program offered by the Raj Soin College of Business. He also serves as the vice president of marketing for the Miami Valley Boy Scouts.
Speech (actual speech may have varied based upon nerves and general wandering):
They told me I had two minutes, but anyone who knows me will know that I've not mastered the art of brevity. 
I am honored to be here with all of you tonight.  After all, we've been through over the past few years… tornados, the shooting downtown, and the pandemic where doctors and nurses were given no rest for years… it's nice that we are back to celebrating nonessential workers. 
Growing up, my father got hurt really badly. He had fallen over 30 feet off a grain silo, breaking many bones.  Doctors said he would never walk again, but he did because what the doctors didn't understand was exactly how stubborn my father is.  It is in our DNA.   
Years later when I started to want "stuff" as any 8-year-old does, he offered to help me get a job at the manufacturing company he worked at.  I started off sweeping floors, but eventually, I learned how to do many manufacturing tasks from start to finish.  
By the time I was 16 I moved over to the restaurant industry, starting as a dishwasher and working my way up to manager a few years later. 
Many people don't know this, certainly, it was left off the nomination, but I am in fact a college dropout.  
After a couple of years at Wright State University's Lake Campus, I determined that I had two paths: purchase the restaurant that I had been working at or work towards ensuring my punk rock band would become famous. Neither of those seemed to require a degree and so eventually I just stopped going. 
Fast forward a few years later, the band was no more and I started to consider what a life of working on my feet in a restaurant for the next 50 years would be like.  After some soul searching and contemplation, I decided to go back to school.  
A high school friend, Paul Neighberding, let me move in with him, he had finished his undergraduate work and was continuing on to receive his MBA.  Inside I felt demoralized at the possibility that I had "wasted" so much time and how far behind I was compared to my friends. 
But Paul wasn't the kind to judge, he is a good man.  A phrase I do not use lightly.  He helped me land a job at the company he still works at today, so I will be kind and say simply that at some point I realized that working in environmental monitoring products wasn't for me.
So I did what any lost soul would do, I went to complain to a professor.  
"I'm $40,000 in debt and I can't imagine doing this for the next 40 years of my life.  I need a backup plan or I'm going up to the roof to jump off." 
He told me that he thought I might be a little crazy and probably a creative. He suggested that I read Ogilvy on Advertising.  I went to the library and read the book cover to cover that night.  The next day I quit my job and started internships in TV, newspaper, then into advertising agencies, and eventually building my own agency.  
That journey started because Chuck Gulas knew which book I needed to read.  
That journey started because I came here to Wright State University.  
I didn't do a tour before coming here, because I knew that this was where I was supposed to go.  
Rich kids go to UD or Miami and the working class come to Wright State because it is the best shot you have at breaking out of the lower or middle class and into a world where you can determine your own destiny. 
This school is #2 in the nation for social mobility, which is a fancy phrase for what I describe as "my journey". This school did that for me and so many others. 
A decade after I graduated, my company was named the fastest-growing company in Dayton by the same newspaper I interned at years early.  I've received awards that were made at the factory my dad and I worked.  
But let's get concrete: I am here because of many of you.  It took a lot of people investing time into me to get to where I am.  In this audience are friends, family, and mentors all of whom took time from their lives to help me become what I am today.  
Thank you to all of the mentors who showed me the path, I try so hard to pay that forward in a myriad of ways. 
For my wonderful parents who let me choose my own path, even when it was hard to watch me fail over and over again.  They never stopped loving me.  
Finally, thank you Wright State University for taking me back after our little break-up in my early 20's.  I'm proud to be an alumnus.  I am grateful for the opportunities post-graduation to be able to give my time and talents back to the students and the university.  
I am beyond grateful for this life.  
Thank you all so much.