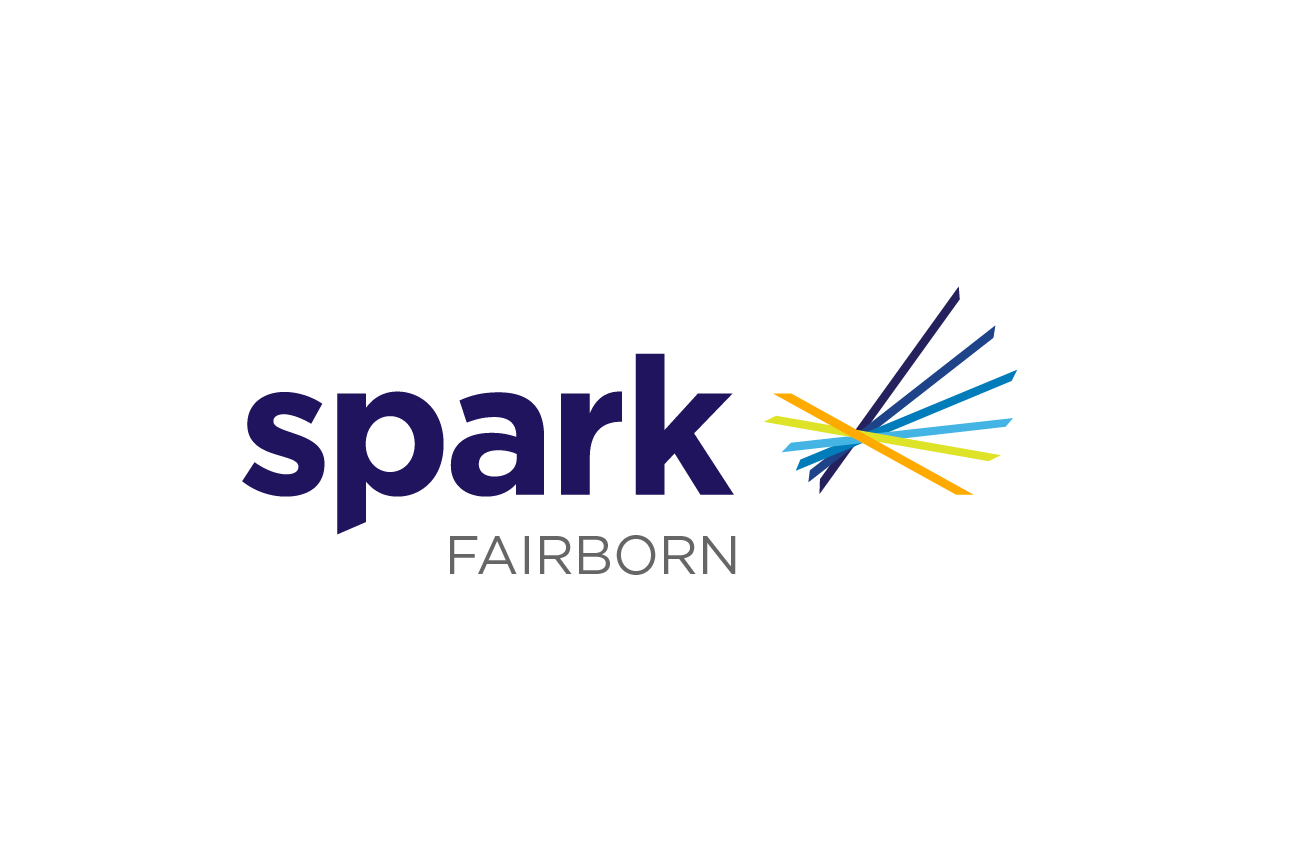 CLIENT
City of Fairborn
INDUSTRY
Government
APPLICATION
UX Design, Web Design, Collateral Design
The City of Fairborn didn't want a bland piece of paper with statistics and data for its annual report. Instead, Fairborn wanted to inform its citizens with something modern that reflected its development as a city and embodied its motto: "A City In Motion."
Fairborn's foundation is built on a rich tradition of heritage, values, and innovation. As a merging of two cities nearly 70 years ago, Fairborn is a melting pot of citizens from all over the country, drawn because of the high quality of life. Known for a continually advancing school system, extended educational opportunities, a historical downtown, and a vast parks system, Fairborn is a unique community dedicated to its citizens and their goals.
Wilderness Agency, an agency well-known for its passion for southern Ohio, partnered with the city to develop a microsite, posters, and additional collateral that would continue to grow as the city does. Fairborn recognized that with a progressive, story-based annual report, they could change how they were perceived by businesses and residents.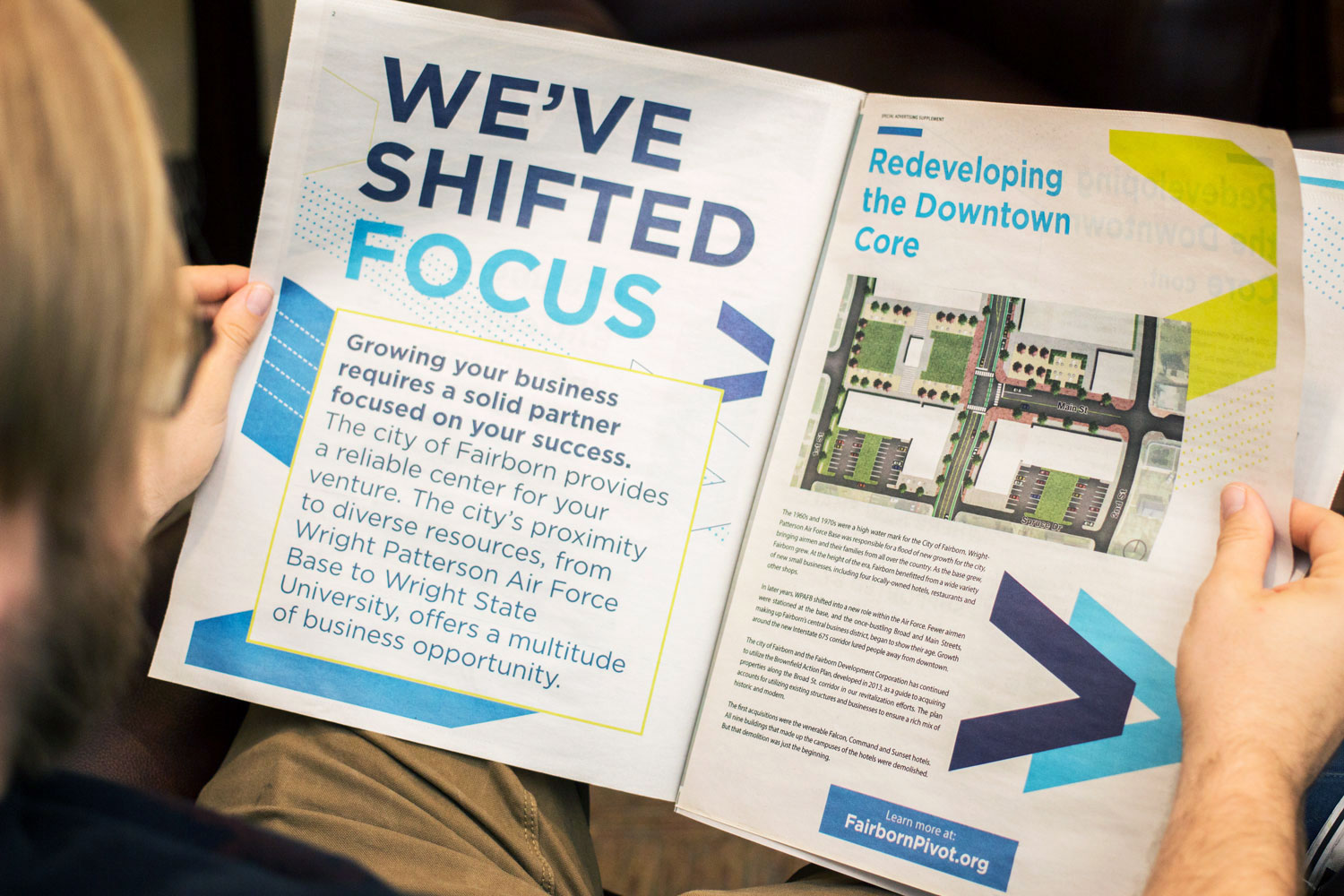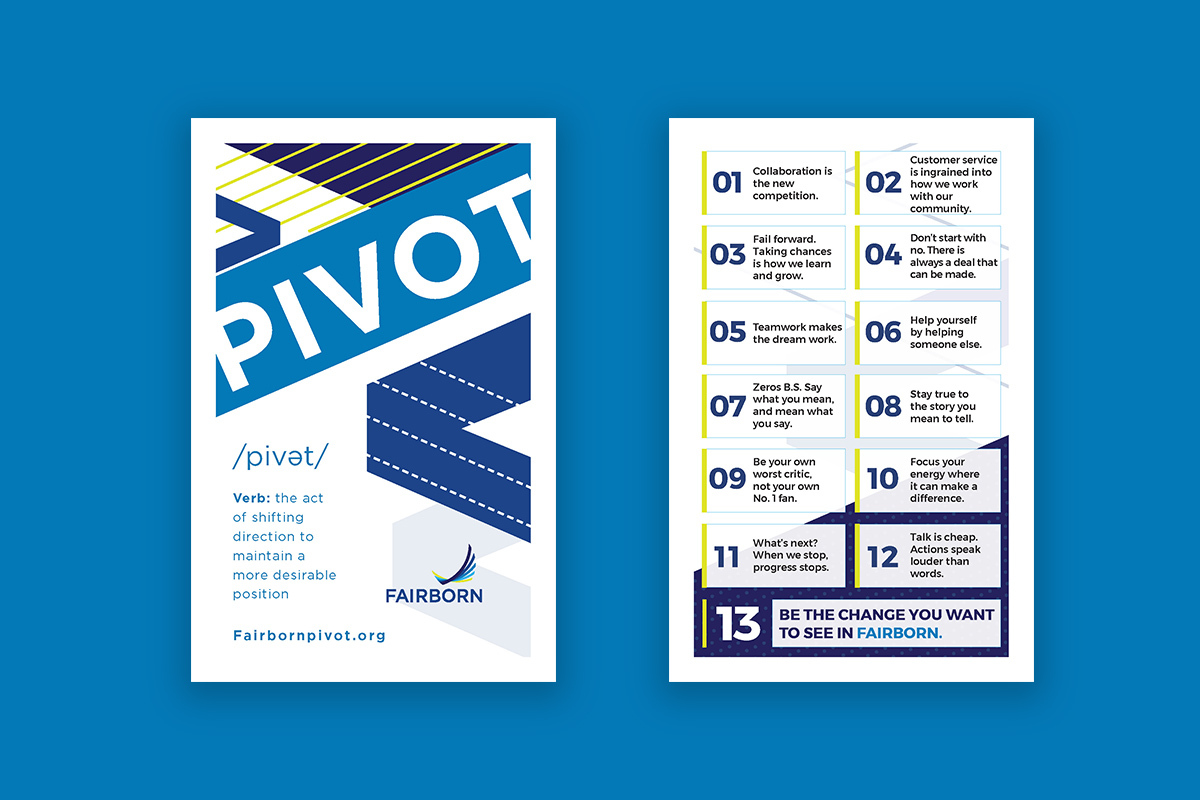 An Interactive Way To Deliver Information
The report became an accessible, evergreen microsite. Pivot grew out of the need to tell a different story – to Fairborn's residents about Fairborn's residents. The microsite needed to showcase the economic growth and progression the city was experiencing as well as display the contributions and attributes the area already had.
Wilderness then worked with Fairborn and the Dayton Business Journal to deliver the featured stories on the microsite directly to the desks of entrepreneurs and C-level executives with a special supplement within the business newspaper. Additionally, Pivot posters were commissioned to bring a greater awareness of Fairborn's vision for its future.
By focusing the site on the businesses that were finding success in Fairborn, Fairborn is positioned as a business-friendly city eager to help entrepreneurs grow.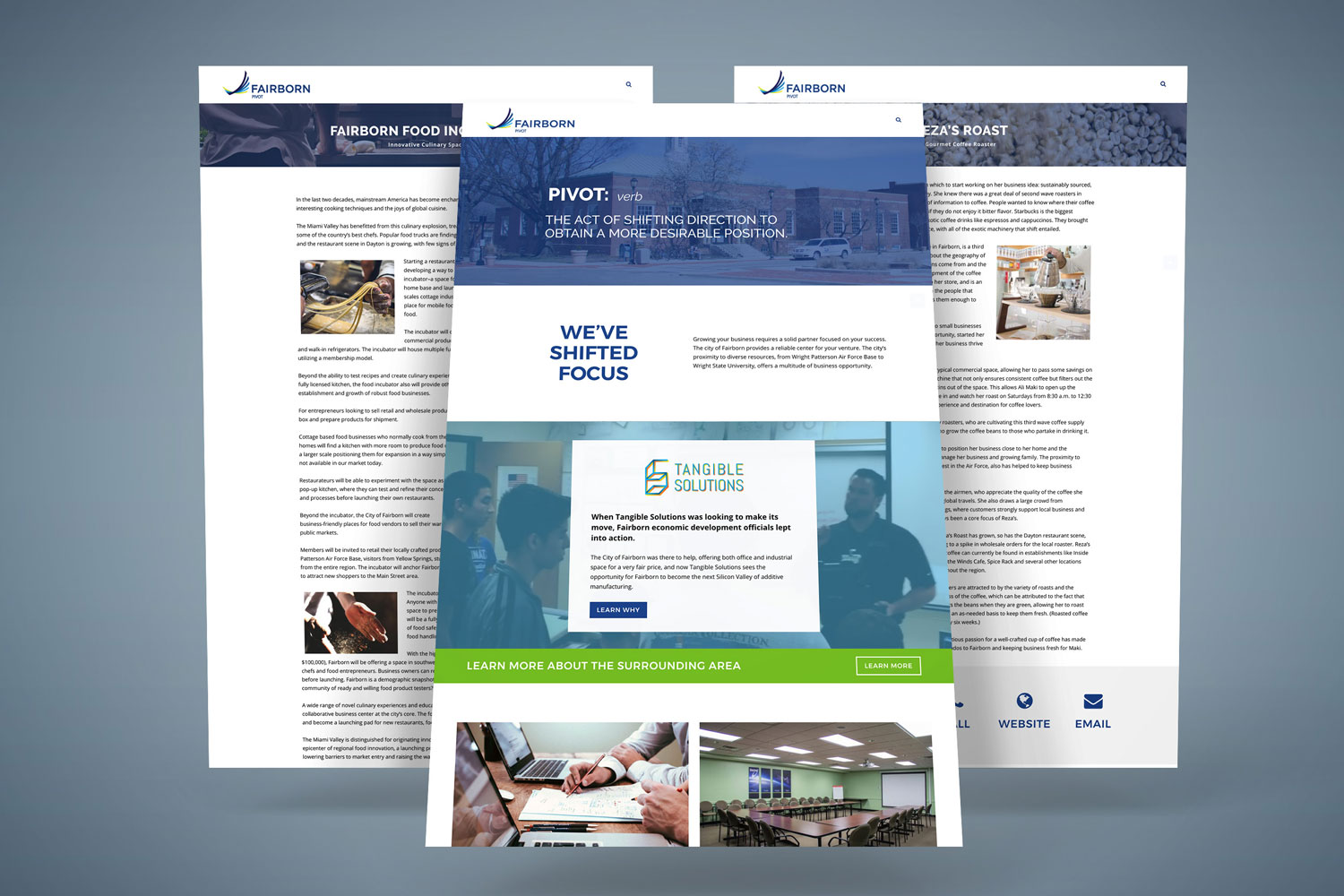 Forging the Spark
New leadership in Fairborn wanted to foster innovation and make it easy for small or big businesses to get their start. Fairborn approaches these opportunities with zero B.S., cutting out the red tape and allowing for an easier path for businesses to begin their journey.
Through this new approach and outside-the-box thinking, the city was able to help give support to innovative new businesses and lay the foundation for a kitchen incubator, resulting in Spark Fairborn. Spark Fairborn needed a modern representation of the many facets of their new venture. Their logo needed to be customized to fit five unique projects: Kitchen, Gluten-Free, Labs, Events, & Incubator. 
Spark Fairborn communal space gives local businesspeople:
"Tools, support and community you need to control your fate and grow your business. Spark can give you a place to begin and offer counsel along the way from other business owners and those connected into the world of entrepreneurship." +Spark Fairborn
The Creative Team at Wilderness was honored to assist with an exciting community project designed to encourage innovation and collaboration in local Dayton communities.