CLIENT
Levitt Pavilion
INDUSTRY
Non-Profit
APPLICATION
Annual Report, Printed Materials
The establishment of Levitt Pavilion, an outdoor music venue in the heart of downtown Dayton, added a little more shine to the Gem City. This stage brings the community together for a wide range of diverse concerts. The setting provides artists an opportunity to reach out to their community. It also encourages the community to come together to enjoy each other and the entertainment on stage.
For the fans attending the concerts, there is no charge. Levitt Pavilion reaches out to their neighbors in the city for donations to keep everything free. The message has to be clear, concise, and show the value provided to Dayton at their venue.
Levitt Pavilion wanted to accurately portray their value in the community through a message that reflects their desire to unite the community through music. In the spirit of community, they reached out to many design firms to help with this project. Wilderness Agency was thrilled to be one of these partners asked to participate in this project and help the downtown area.
"That's one of the coolest things about Levitt Pavilion: they get a little bit of everybody. There's something for everybody all summer long."
+ Josh Moody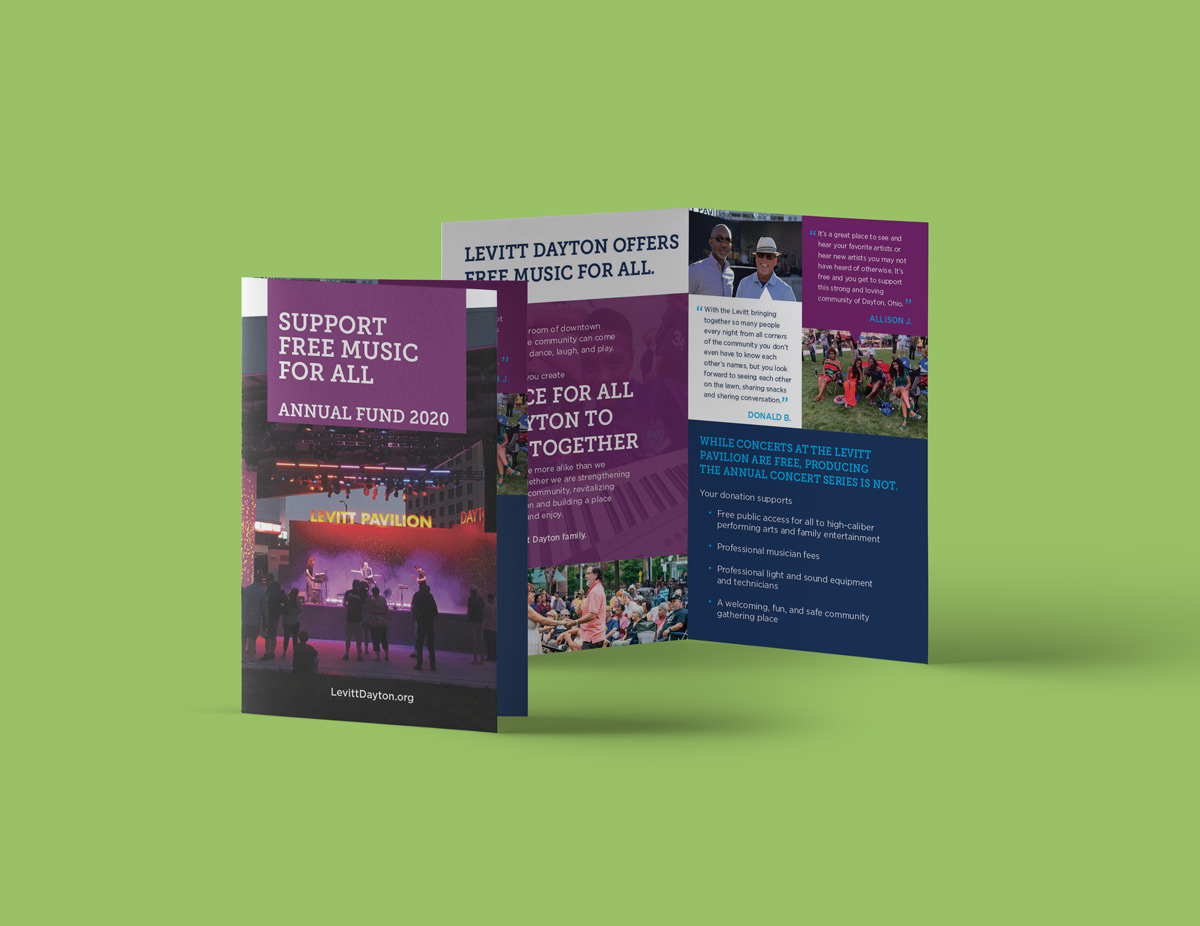 Design To Gather Support
Garnering support became the primary goal of the project. In 2019, our team went to work on the creation of an annual report, donor brochure, mailers to be sent across the community, and a presentation slide deck for meetings with prospective donors. In 2020, Levitt Pavilion brought to us the same task with higher stakes; raising donations and awareness during the pandemic was essential to keeping the beloved venue of the Dayton art scene alive.
The team at Levitt established the piece's tone, visual look, and the messages they sought to deliver, and our design team created a bold look to match the mission of the organization. The work created excited donors and helped them to understand the need of having assets like Levitt Pavilion in our community.
Wilderness Agency is proud to support this organization, bringing together so many people in the city to create a cultural hub and bring citizens together.