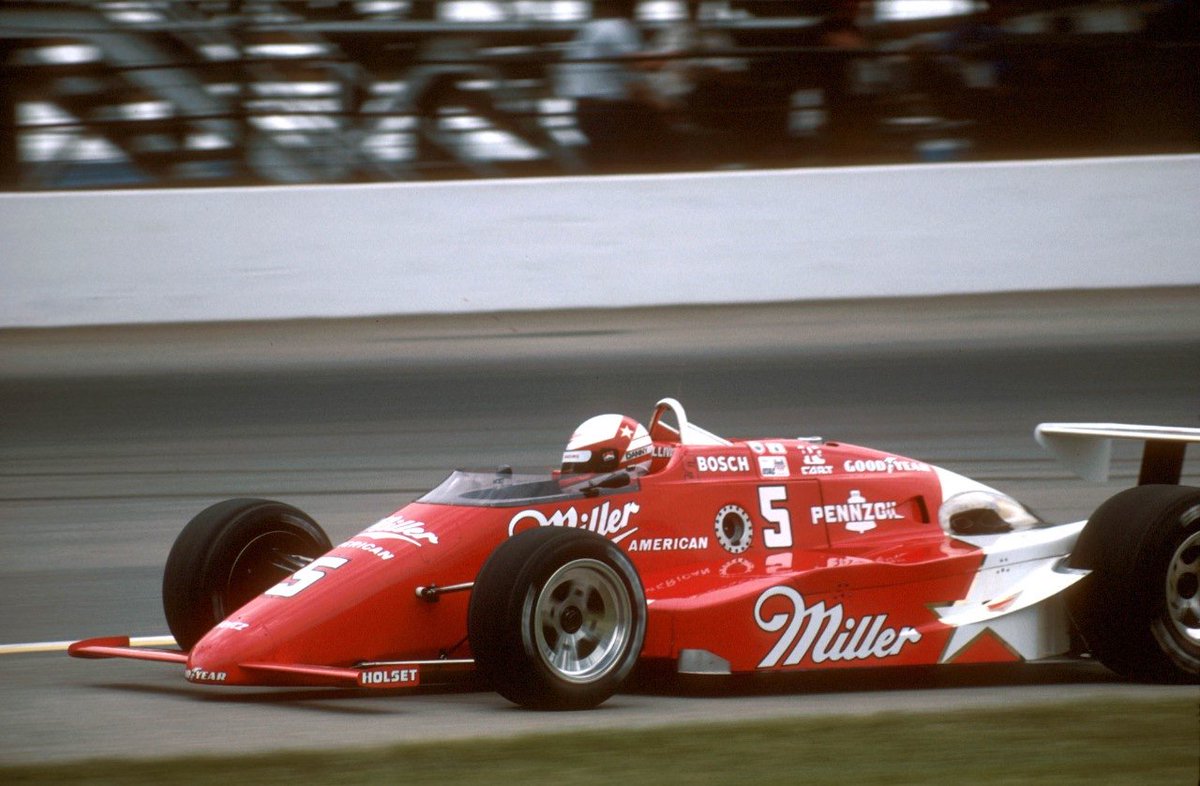 One of the most historically crazy moments in Indy 500 history was Danny Sullivan's famed "Spin and Win" move during the 1985 race. This is a story about the necessity of the dreaded pit stop.
As Sullivan and Mario Andretti battled for the lead, Sullivan misheard a radio transmission from his crew and thought they had told him that there were 12 laps left when there were actually 80 to go. Thinking it was time to put the car into kill mode, Sullivan cranked the boost knob and let 'er eat.
With a big head of steam, he dove very deeply below Andretti and attempted a pass which ended with him spinning a perfect 360 directly in front of the quickly reacting Andretti. Mario dove down, missed Sullivan and sped off, likely thinking that he would be living on easy street for the remainder of the race.
A yellow flag was thrown and virtually everyone hit the pits, including Andretti and Sullivan. Coming out of the pits the stage was set for a battle to the end. Sullivan caught Andretti a couple of dozen laps later, passed him, and recorded his first and only Indy 500 win in fine fashion.
If we're ranking the top 100 moments at the Indy 500, this one has to be damned close to the top. The fact that he did not hit a wall, another car, or even cause a spec of damage to the car enough to make the thing slow down is nearly beyond comprehension. 
While Sullivan never won another Indy 500, the guy became an international star and continued to have success in open-wheel cars and as an off-road racer. If you were a kid of the 1980s, Danny Sullivan was the epitome of cool when it came to race car drivers.
In the video above, the commentators marvel at Sullivan's hard work and determination. How he had worked shitty jobs and lost more than he had won. 
Invest In The Caution Lap
What made Sullivan special was his preparation. And the sheer refusal to back down when times got tough. 
"Luck is what happens when preparation meets opportunity."

– Seneca
As we pass the one-year mark of COVID lockdown, has your business been hunkering down and focused only on surviving until the storm passes? Or has your business been in the pits hard at work? It's important to note that surviving is not thriving.
Companies that invest in themselves now – when conditions are less than ideal and the competition is in the same, seemingly, dire situation – will pull ahead. Once lockdown lifts, the economy will be eager to regain laps lost, and those companies that are ready to launch can and will steal market share.
We know that about every eight years, there is going to be an inevitable wreck, a possible pile-up of cars who were once cruising steadily. The competitors that know this is going to happen, especially compared to those watching the wreck and those in the wreck, are going to have the upper hand.
They'll know when to go right, go left, back-off, or speed the hell up. And sometimes you get lucky and when the smoke clears, you're facing turn two, competitors in the dust.
No Finish Lines
Businesses do not have the luxury of an ultimate finish line. The expectation is to keep growing, unless the business is eventually sold or goes under. Sullivan focused on the small milestones, every preparatory step, and each achievement that led up to a well-deserved triumph.
Sullivan's win came from his years of work and his ability to seize the opportunities in front of him. At Wilderness Agency, we have the know-how to help you invest in the caution lap. Come out strong with your foot on the gas. Let's start building your strategy.