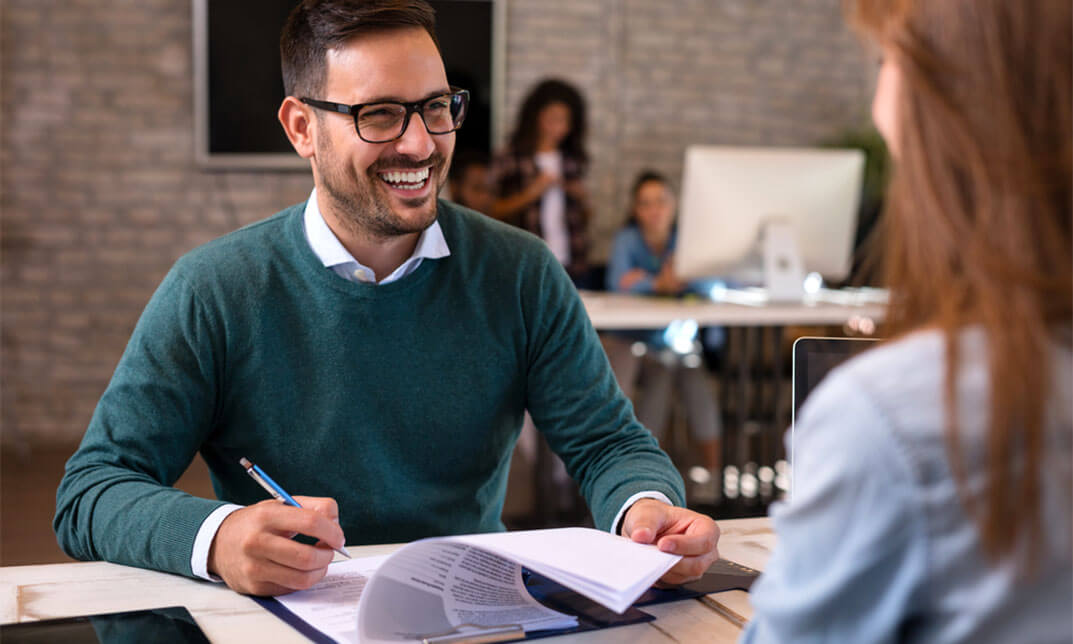 If you are like so many other businesses in nearly every American city, you need help. And it's not financial help this time…it's help with recruitment and hiring. Businesses large and small need to strategically create and implement a recruitment marketing action plan.
Gone are the days of posting a "help wanted" sign and expecting a position to get filled within a couple of weeks. Unless you live in a very, very small town. The worker landscape has changed as generations have aged out and aged up, and reaching a new type of audience brings new challenges.
Additionally, issues like benefits, work-life balance, and health and safety concerns come into play for many applicants. No longer do applicants need to bend over backward to please a potential employer; in a surprising role-reversal, employers now need to show candidates why they should want to join the team.
The first step in recovery is admitting that there is a problem. Identify where you can beat your competitors and present that story to the right audiences. This I believe is the first step in helping companies shift from a place of weakness and to a world where folks are banging down their doors. +Richard Kaiser
To pack the biggest punch with any recruitment marketing efforts, we highly recommend you develop a strategy-driven recruitment marketing action plan. To learn more about the basics of recruitment marketing, read "Recruitment Marketing – Not A Passing Trend." We promise you will find some quality tips!
Follow along as we show you our eight essential steps to developing an effective recruitment marketing action plan.
Your Ultimate 8-Step Recruitment Marketing Action Plan
#1 – Set Your Recruitment Goals
Do not proceed blindly without setting your goals! This will save you as recruiters time, energy, and headaches in the long run. While of course, your ultimate goal is to attract great candidates to apply to your open job positions, there is often more involved with developing a long-term recruitment strategy.
By identifying additional areas of improvement, recruitment of quality candidates could become easier over time.
Specific goals could include:
Attracting more job applicants
Receiving more high-quality candidates
Increasing candidate engagement
Increasing employer brand awareness
Improving employer reputation
Increasing career site and social media visits
Increasing traffic from social media
Introducing and growing employee referral rates
Improving the offer to acceptance ratio
Increasing the number of diverse applicants
#2 – Create Your Candidate Personas
Recruiters know who they want to apply, but do recruiters know everything about their candidates? What motivates them? What frustrates them? What do they desire out of a career?
If you don't know the demographics and psychographic profiles of your ideal candidates, how will you attract and retain them?
We recommend building multiple personas to encompass different profiles for your ideal candidate. And each job opening will most likely require different personas based on the role and its requirements.
Characteristics to include in your personas include: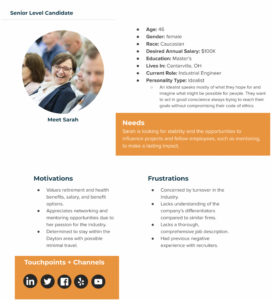 Demographics

Gender
Age
Likes & dislikes
Hobbies
Location
Current position
Favorite brands, organizations, & causes

Psychographics

Motivations & frustrations
Wants & needs
Touchpoints
Family
Personality type

Introvert v. extrovert
Analytical v. creative
#3 – Define Your Value As An Employer
Why should people work for your business?
Think of your personas. How would they react to your value proposition as an employer? Would they be attracted to it? Or would it deter them from applying?
What can you offer a candidate that other companies can't? Yes, just like business competitors, you have employment competitors. You need to differentiate yourself within the job market, and that may take change and advancements to meet your audience's needs.
A value proposition is so much more than a salary. A value proposition that resonates could include:
Opportunities for career advancement
A meaningful mission greater than making money
Challenging & interesting projects
Welcoming company culture
Benefits that make sense
#4 – Cultivate Recruitment Content
Craft the candidate experience with content that is useful and exciting. Rather than creating fluff, focus on creating content that provides a candidate with a deeper understanding of your company and what one could expect from a career with your company.
Messaging, design, and format should work together to tell a cohesive recruitment story.
For example, produce videos showcasing current employees in their roles and follow them for a "Day In The Life" experience. Or ask current employees to share their company story on their LinkedIn, providing first-hand experience to potential applicants.
Different types of recruitment content include:
Videos
Webinars & live videos
Blog posts
Emails
Infographics
Checklists
Newsletters
White papers & case studies
#5 – Optimize Your Careers Page Or Microsite
Your careers page or microsite is the central hub for all applicant activities.
Career-focused microsites allow for easy visibility into open positions with your company and allow your team to create ads that will take your applicants directly to your employee portal. 
A top-notch careers page and/or microsite explains these key points quickly: who your company is, what you do, and contains information about your company culture, values, and work environment.
By maintaining a one-stop-shop to view jobs, benefits, and a seamless application process, you can quickly attract top candidates. Additionally, you improve your chance for ranking within search engines with a dedicated careers microsite.
#6 – Take Advantage of Social Media & Brand Advocates
Social media is now a key pillar of our society, and your candidates are likely on social media in some way, shape, or form. Identifying which platforms they use and how they behave will be crucial to your recruitment success.
Take the time to develop a social media strategy consistent with your recruitment goals. Your social media strategy will have to blend seamlessly with your content strategy because it presents a prime opportunity to distribute your videos, blog posts, webinars, and primarily, connect personally with candidates.
Social media can become a time-intensive commitment depending on how many social platforms you choose to utilize. Our advice: Quality over quantity.
Be strategic about which platforms you choose and pay close attention to the analytics to determine which posts perform best and adjust content accordingly.
For bonus points, you could identify engaging individuals who portray your company's mission and culture well. If they are willing, designate them as a brand advocate and encourage them to share their job and daily activities on social media.
#7 – Build Your Talent Pool
Once you make valuable connections with applicants, keep those connections alive through a talent pool. This is a living database of candidates interested in working for your company.
When you have an open job position, you can invite those within your talent pool to apply or invite them to spread the word to qualified candidates within their network.
To build your talent pool, you should proactively engage candidates and invite them to join your talent pool.
Ideas to continuously build your talent pool include:
Distributing calls to action throughout your content to invite potential candidates to join your talent network.
Create a job posting simply inviting individuals to submit their resumes for future consideration.
Invite candidates to attend any recruitments events or webinars and collect their contact information through an optimized landing page.
Create an interesting career guide and ask potential candidates for their email addresses in order to download it.
Before you begin building your talent pool, we do recommend having software and a solid structure to support these efforts.
#8 – Use Digital Advertising
Paid advertising can put relevant content in front of your ideal candidates, whether they're searching for jobs on Google, using social media, or simply browsing the internet.
Here are the four types of paid advertising that we have found great success with:
Search Ads – Google is KEY. Do not underestimate how many potential candidates will immediately head to Google during their job search. GoogleAds will allow you to target via keywords and location, giving you customization according to your set candidate personas. You can always branch out and try Bing or Yahoo if your target audiences use these search alternatives.
Display Ads – These ads are the banners you see throughout the world wide web, and these help increase your brand's visibility based on the candidate's online activity
Social Media Ads – Facebook & Instagram have more purposes than selling cute clothes or HelloFresh subscriptions. Facebook and Instagram ads allow for great demographic and psychographic personalization in order to reach your ideal candidates. LinkedIn is becoming a highly valuable ad platform for employers because it allows targeting by job title, specialties, location, etc.
Retargeting – Take your digital presence one step further and connect with those already aware of your brand. These ads will target those who have already had some form of contact with your company and its digital content. Retargeting is a great tool to help stay top-of-mind for candidates. But as always, provide value in your ads rather than causing annoyance.
Recruitment Marketing Is Here To Stay
The tailwind of the COVID-19 pandemic presented an unexpected challenge: recruitment and workforce development. All across the country, employers are scratching their heads wondering why more people aren't applying and what they can do to boost employee numbers – or at least receive more applications.
Wilderness Agency Founder Richard Kaiser tackles this issue with a digital approach. Read his take on recruitment marketing in the article, "Dayton marketing agency reveals strategies for recruiting, retaining employees," written by  John Bush  –  Senior Reporter, Dayton Business Journal.